Check out the Mystery of Oregon's Dinosaur History at Cook Memorial Library from August 22-September 19, 2023.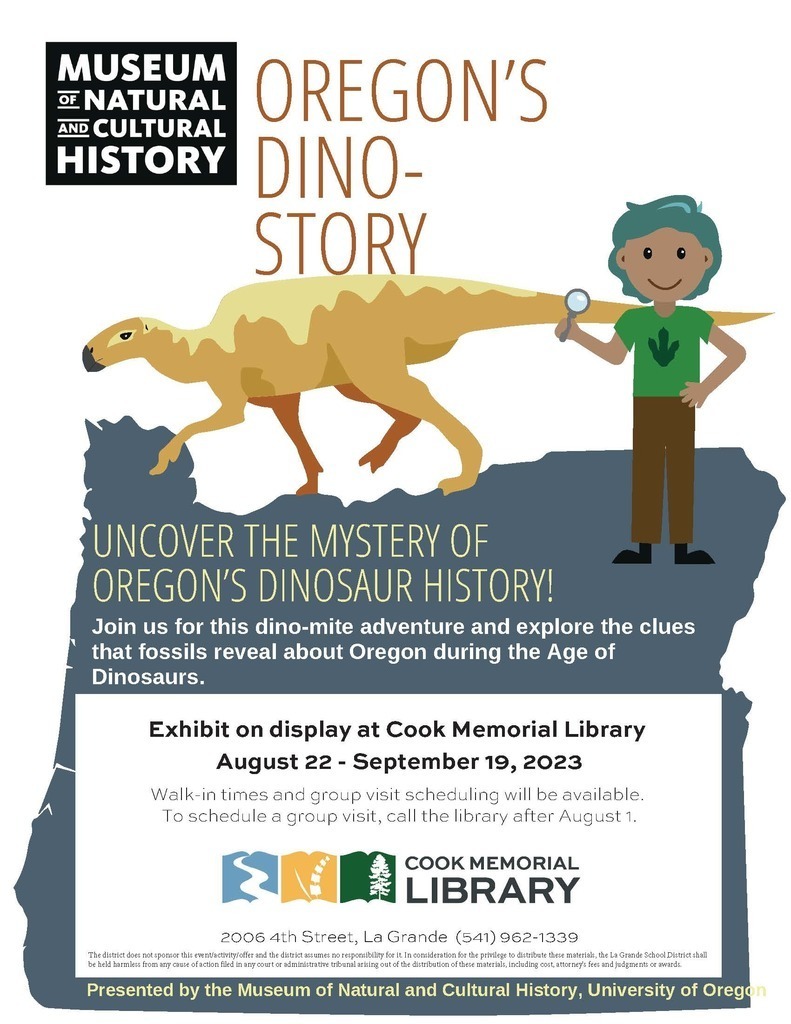 Happy Monday! We would like to share a Husky Pup Humanitarian with you all! Mrs. Keating recognizes Ireland for showing Good Citizenship. Mrs. Keating states "Ireland found a wallet at Cove Playday and returned it to the announcers booth. Good job Ireland, way to do the right thing!"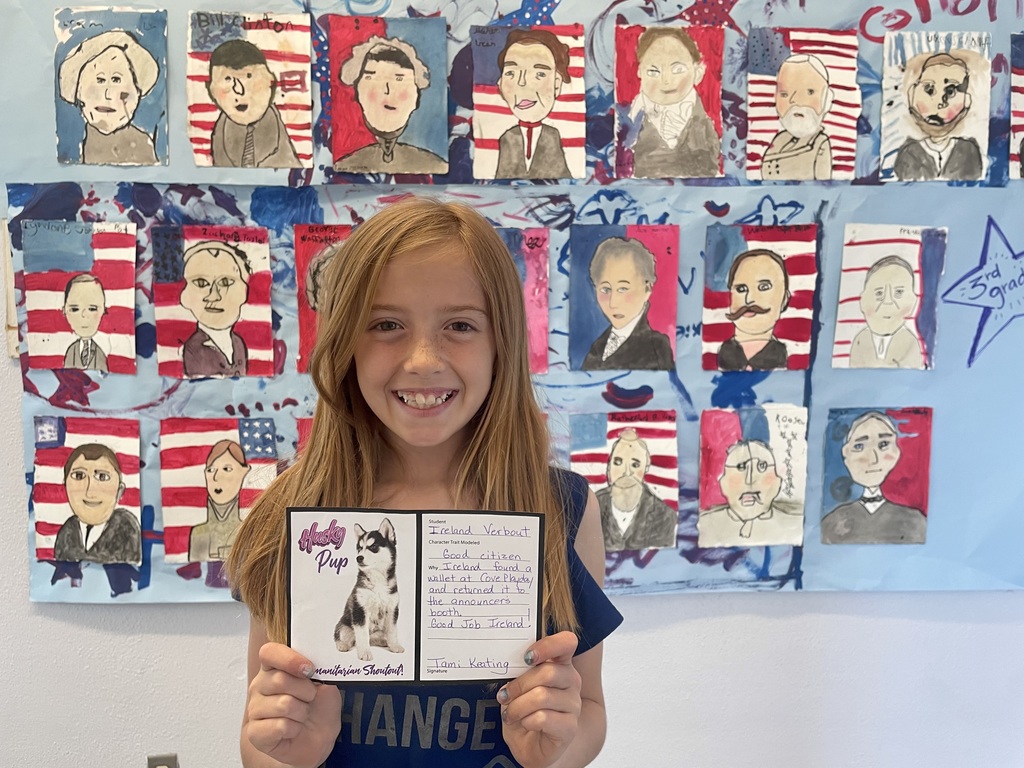 Husky Pup Humanitarian for this sunny spring day! Hayden was recognized by her teacher, Mrs. Stein, for showing Kindness. Mrs Stein states, "Hayden went out of her way to help in our classroom last week, organizing ipads, cleaning up, and helping others. What a joy it is to be around Hayden! Thank you, Hayden."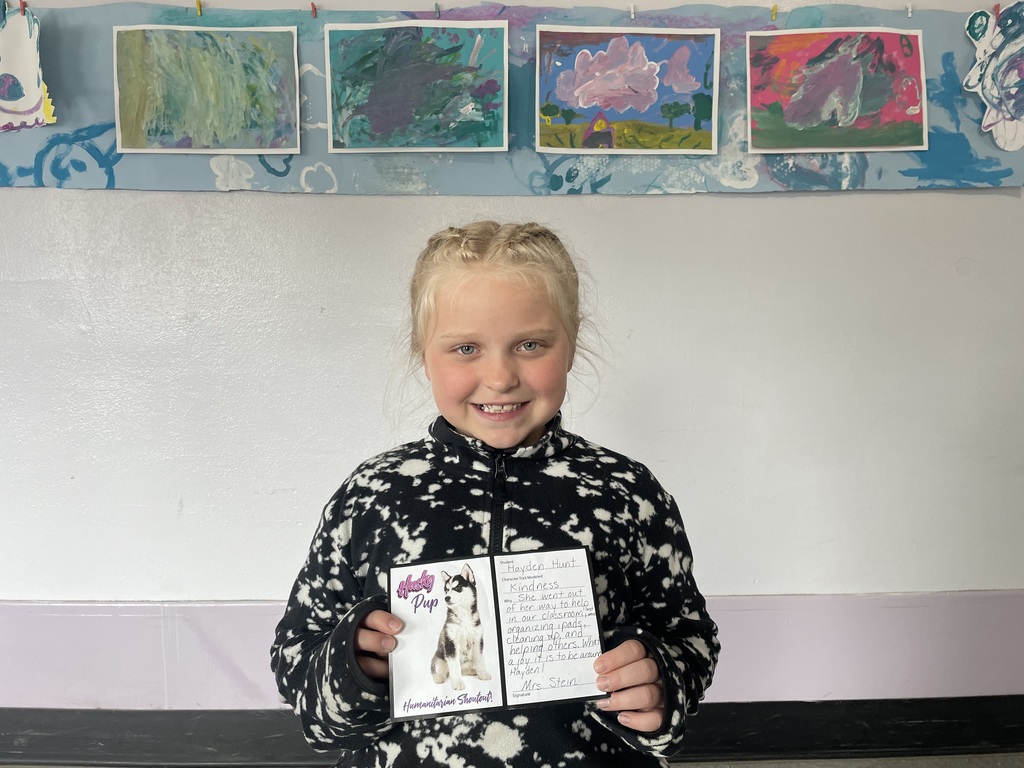 Husky Pup Humanitarian for Tuesday, April 11th! Destiny was recognized by Mrs. Stratton for her Leadership and Compassion. Mrs. Stratton states, "Destiny comes into our room most mornings. She finds friends who need a helping hand or even a "listening ear". She is a positive leader in our kindergarten class. Thank you!"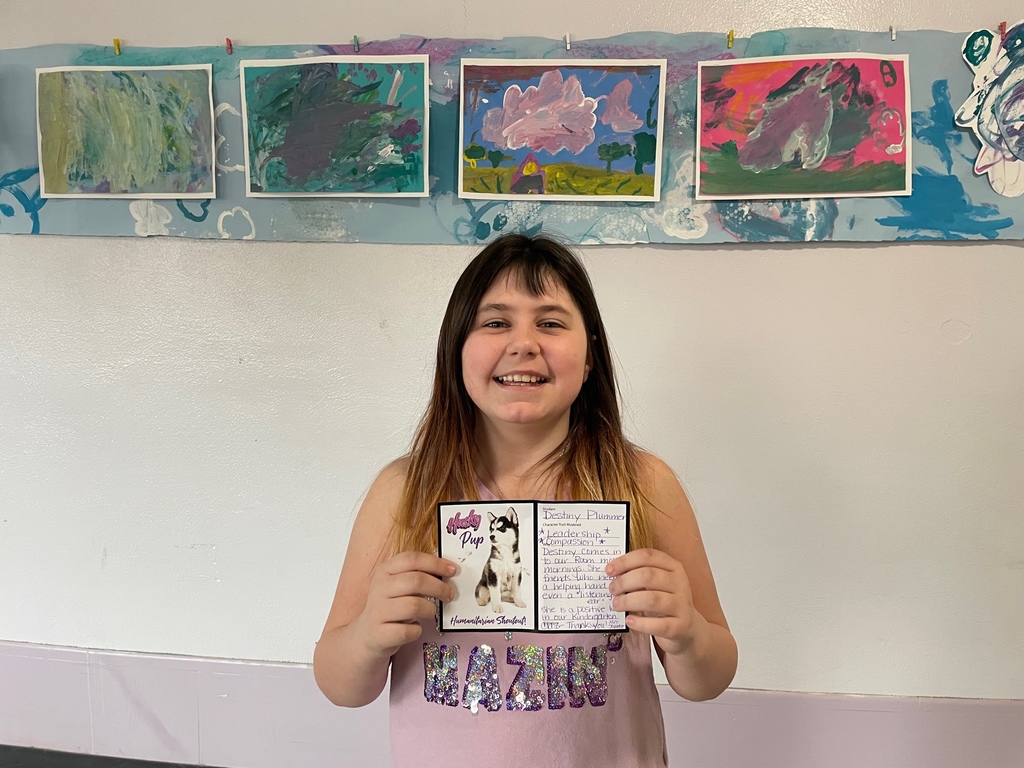 Shout out to our Husky Pup Humanitarian, Kylee! Kylee was recognized by her teacher, Mr. Sage, for showing Kindness. Mr. Sage states " This past week, Kylee noticed that a classmate had misplaced some of their class materials. She immediately stopped what she was doing to go and help the student find the missing materials. It was very appreciated by the student in need as well as staff who observed the kind act. This is not the first time Kylee has exhibited kindness by being helpful to others. She is constantly volunteering to help out and you can tell she does it with a good attitude and a desire to improve someone else's day. Way to go Kylee, Stella Mayfield is lucky to have such a kind and caring community member."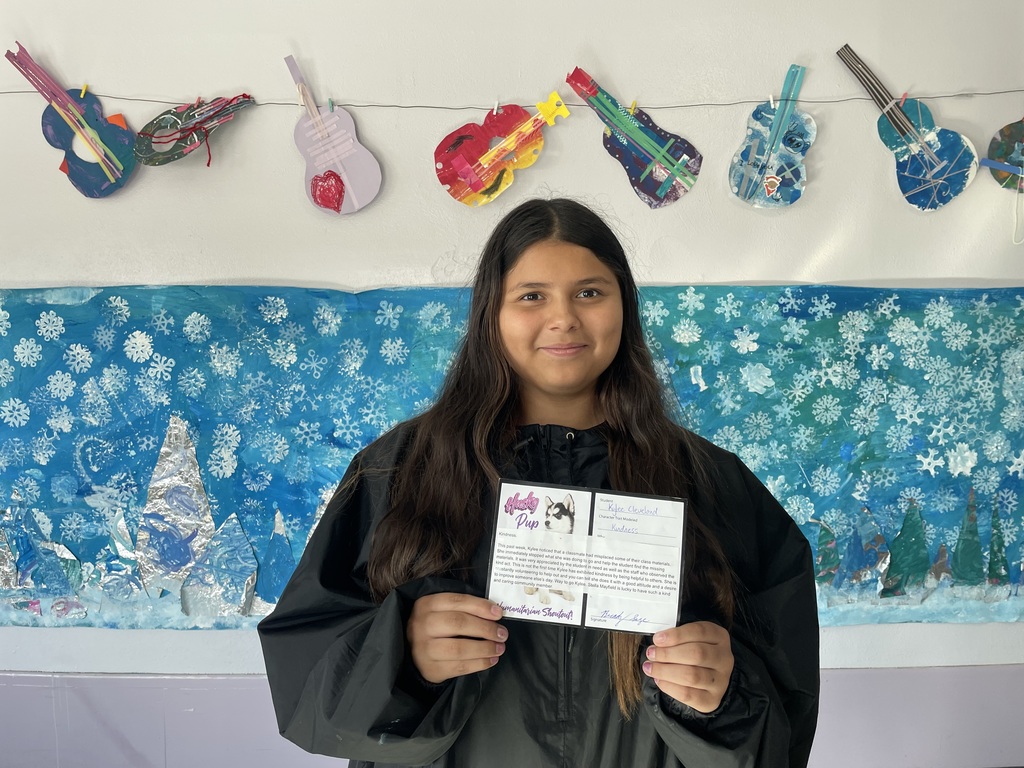 Here is a Husky Pup humanitarian to brighten your day! Oliver was recognized by Mrs. Megan for showing Empathy and Kindness. Mrs. Megan states "while choosing a planet, another friend missed out on the one he wanted and was very sad. Oliver recognized this, showed empathy, and gave the bigger planet he had to his friend and took the smaller one. Oliver, your big heart shines through you! Thank you!"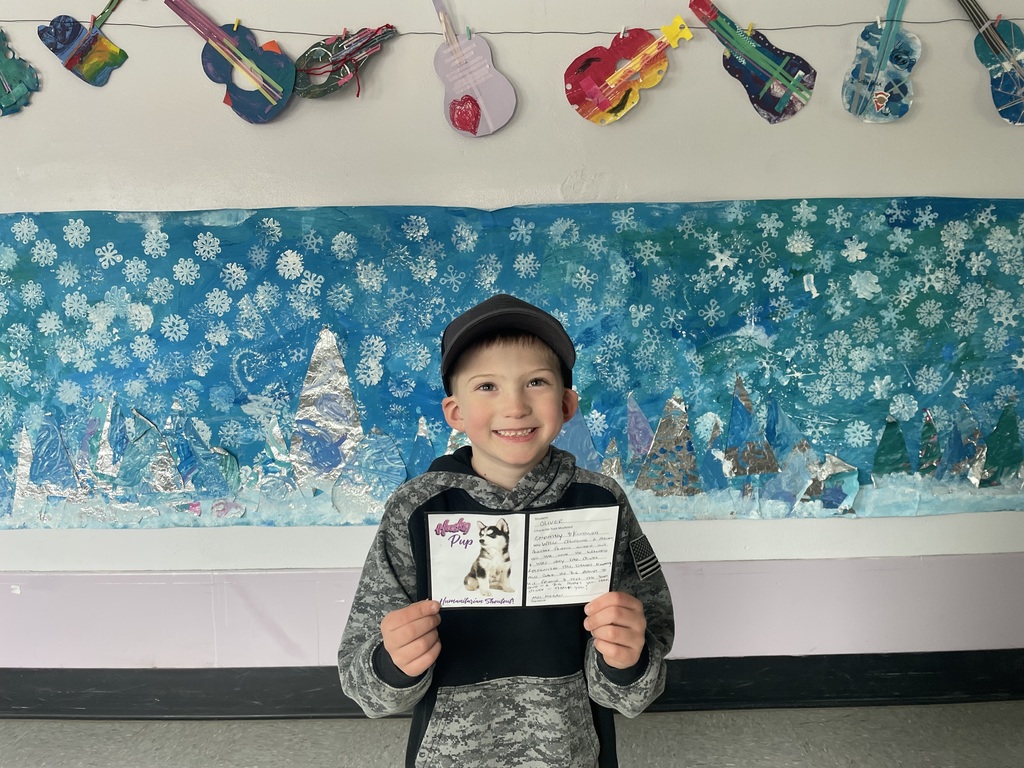 We truly enjoy sharing these acts of humanitarianism by our young students! Issak was recognized by our wonderful Lunch Ladies, Heidi and Stanna, for showing Thoughtfulness. Heidi and Stanna state "After breakfast Issak noticed the lunch ladies gathering up the trash. Without hesitation he asked if they needed help, before they could answer, he grabbed all the trash (which was a lot) and took it to the dumpsters. Thank you Issak for your initiative and thoughtful heart."- The Lunch Ladies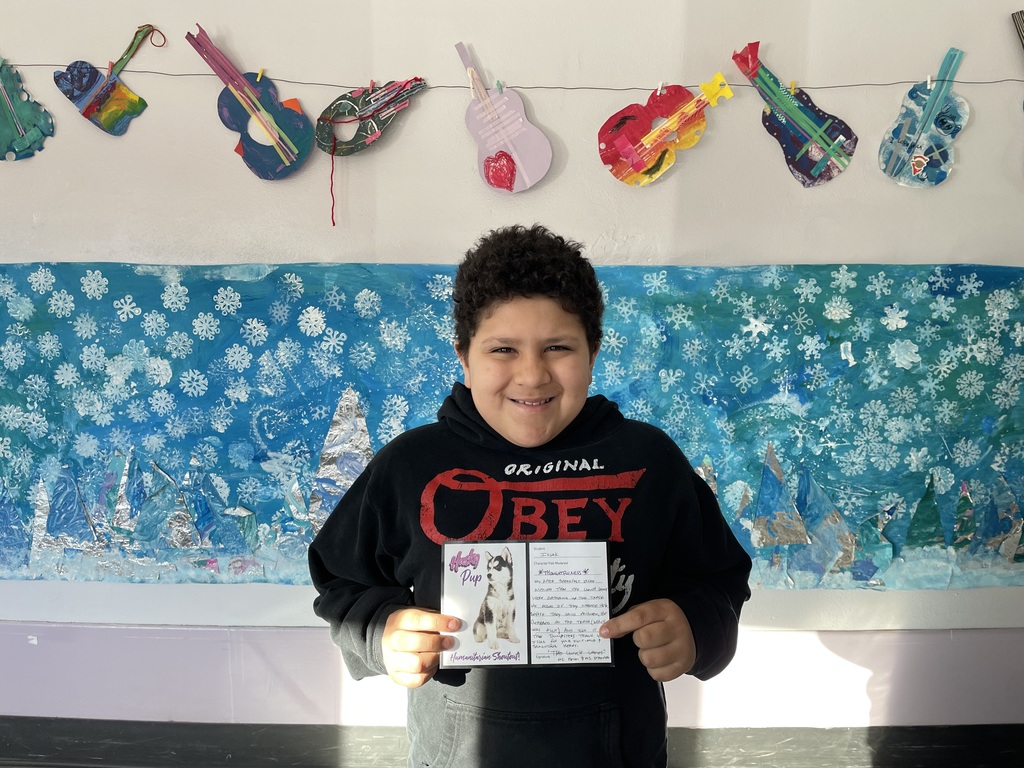 Shout out to the Husky Pup Humanitarians this week! Leonidas was recognized by Mr. Sorenson for Acts of Service. Mr. Sorenson states "Nidas brought his ball pump from home to re-inflate the playground equipment. He recognized the needs of others and used his time and efforts to fulfill it. Thank you, Leonidas."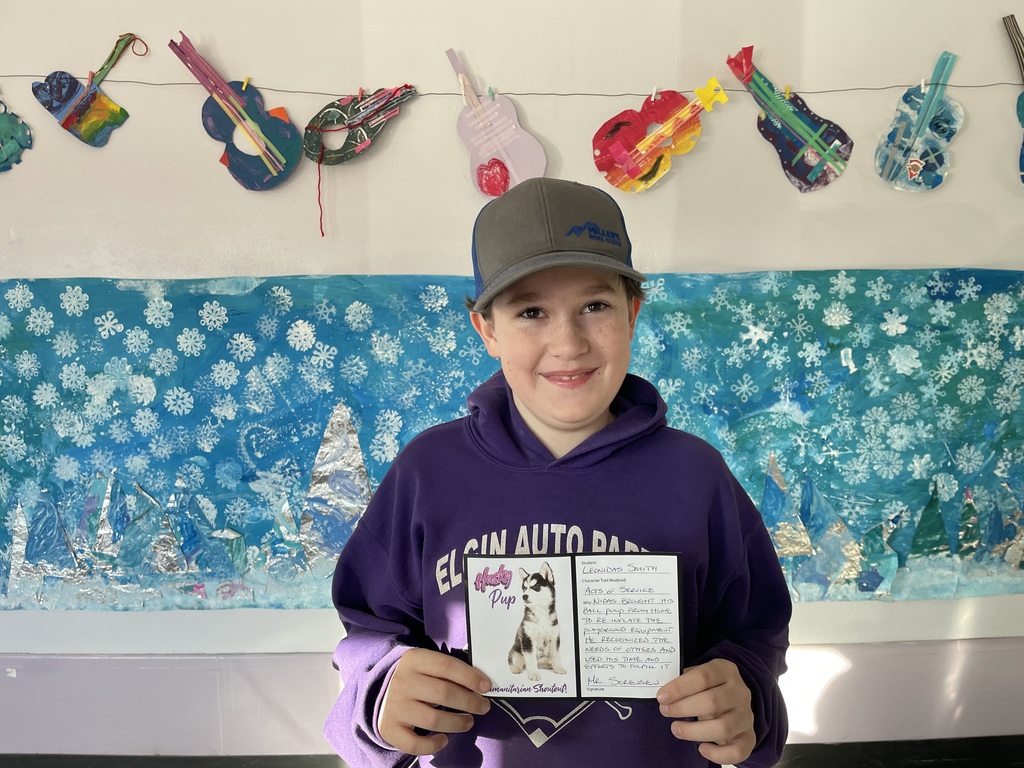 Starting the week off with a group of Husky Pup Humanitarians! Karder was recognized by Mr. Joe for showing Honesty. Mr. Joe states "Karder constantly finds treasures out at recess, rubix cubes, toys, all the things. Without hesitation he always does the right thing and turns them into Mr. Joe. Thank you Karder for always doing the right thing. It's appreciated!"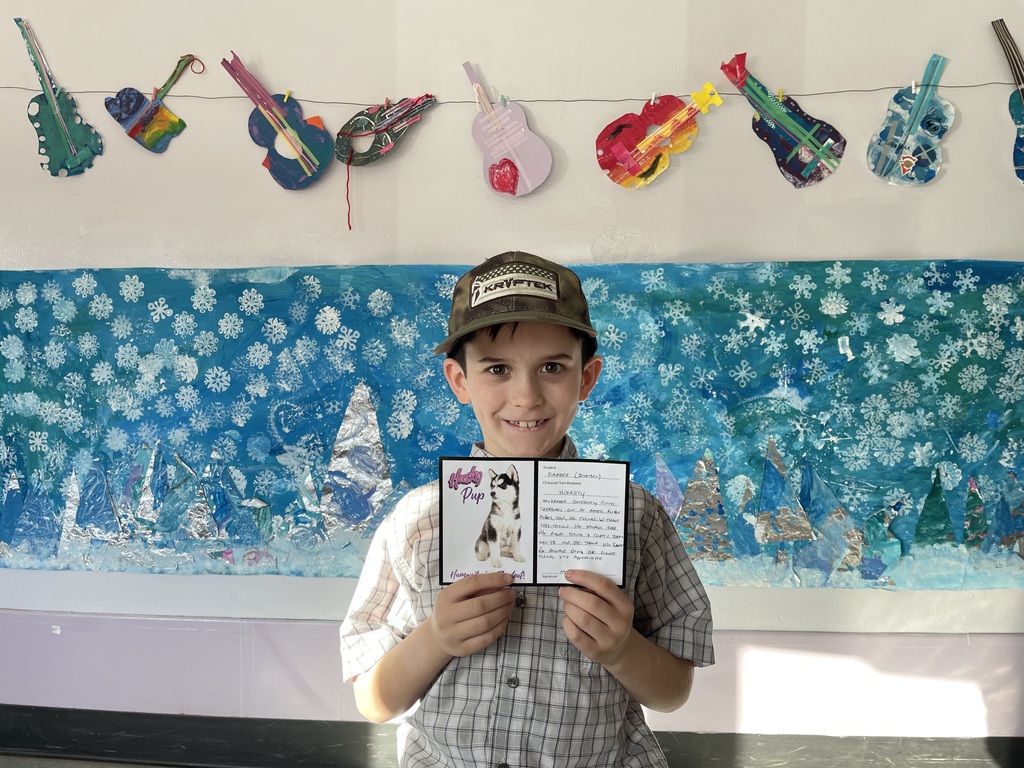 Abbie was recognized by Mrs. Bottger for showing Kindness. Mrs. Bottger states "I had a student returning from the Learning Center. The student missed the turn off to Music. Abbie was helping her find her way back. Thank you Abbie."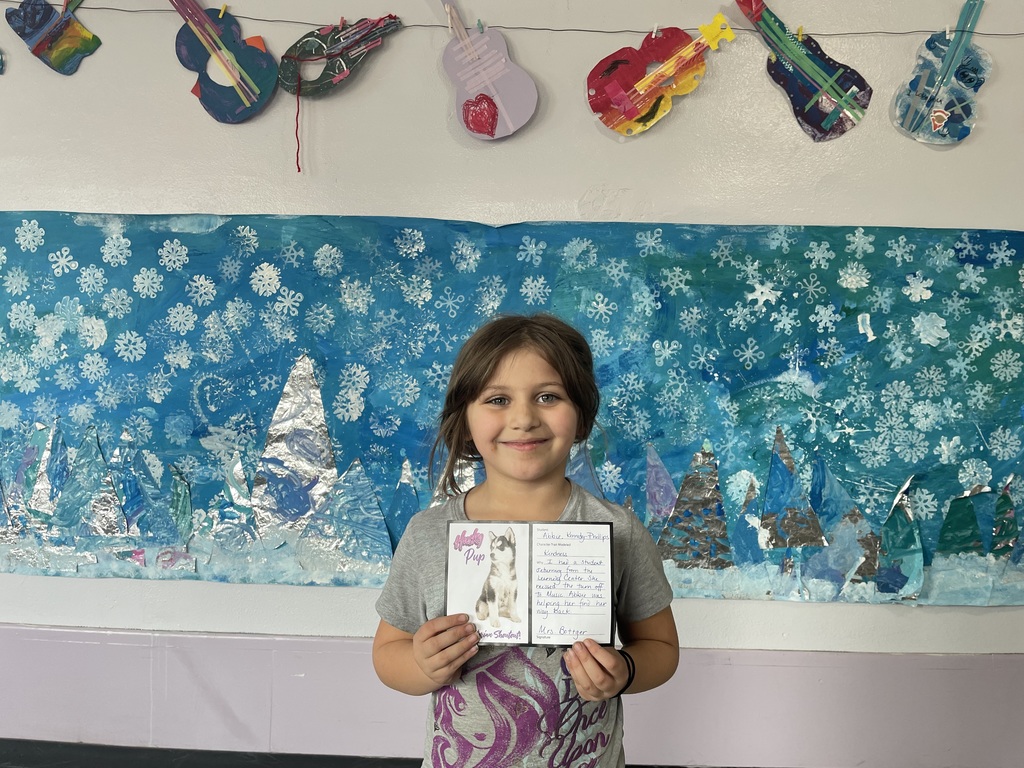 Josh was recognized by Ms. Emory for showing Perseverance. Mrs. Emory states "During reading intervention, Josh chose to skip game time so he could continue to practice reading his story. Way to persevere Josh!"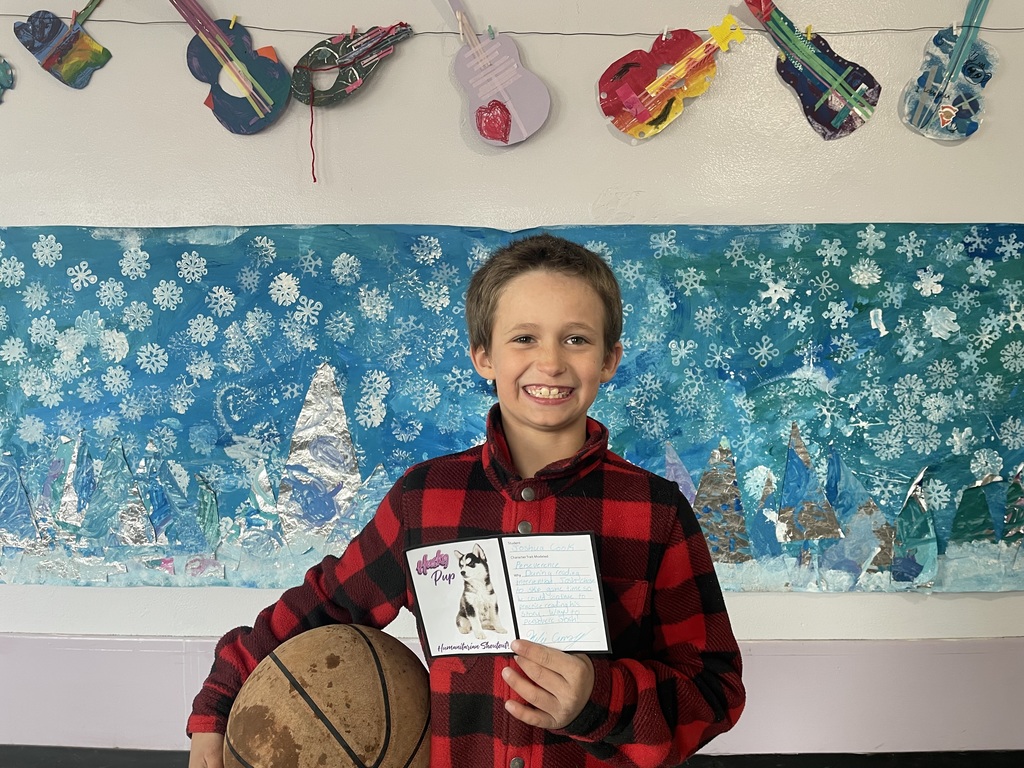 Rounding out the day for Humanitarians! Collin was recognized by Mrs. Bennett for showing Respect AND Responsibility. Mrs. Bennett states "When two younger students had a conflict, Collin stepped in and helped them resolve it. When I asked him about it he said "it's the right thing to do". Way to go, Collin!"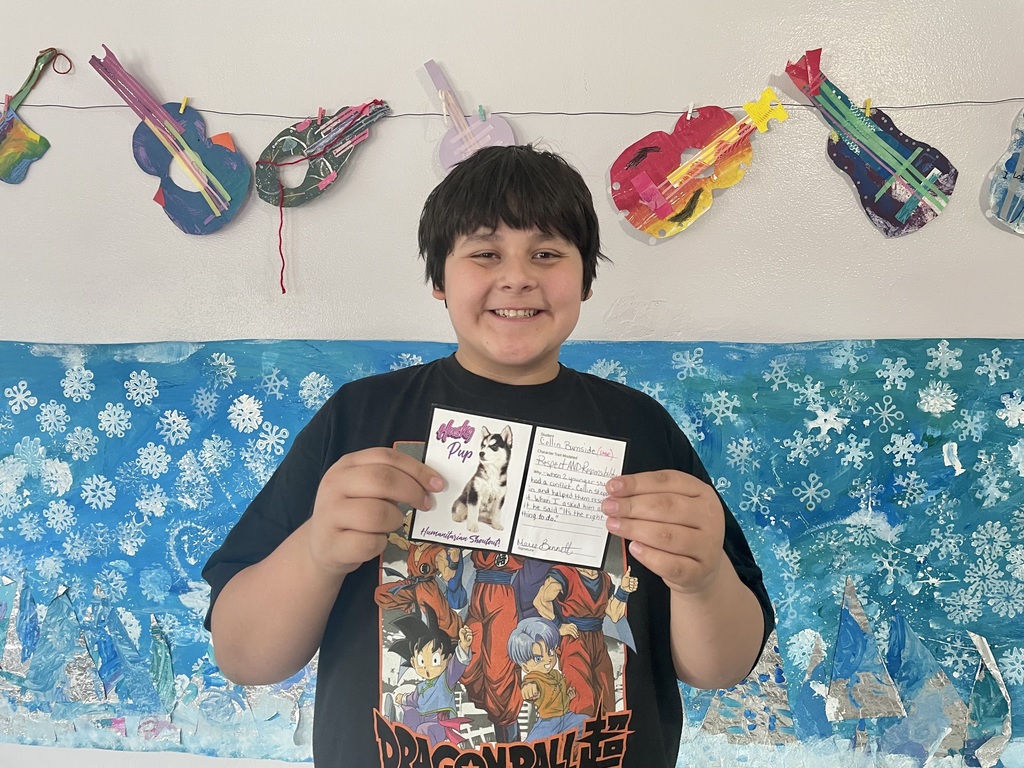 More Husky Pup Humanitarians! Hunter was recognized by Mrs. Bottger for showing Kindness. Mrs. Bottger states "My kindergarten student came late and was eating lunch alone. Hunter volunteered to sit with her so she wasn't lonely. Thank you, Hunter".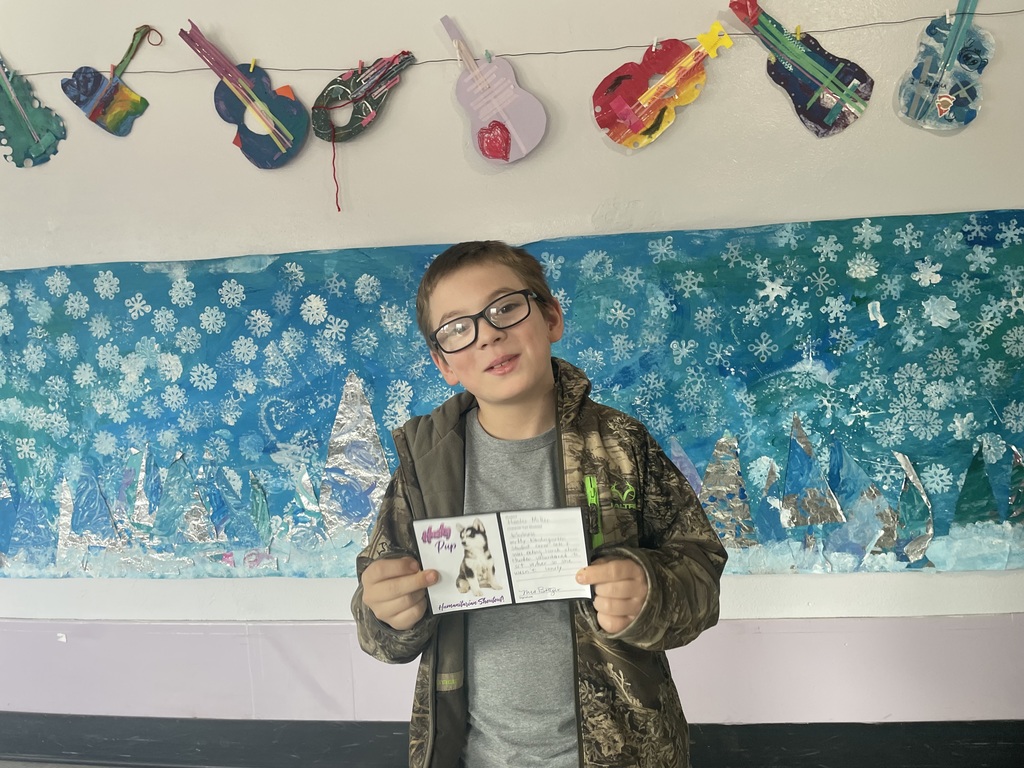 We are rollin' in the Husky Pup Humanitarians this week! Blaklee was recognized by our wonderful Lunch lady, Ms. Heidi, for showing Empathy. Ms. Heidi states "Blaklee noticed that a classmate came to school very sad. She took her classmate to the cafeteria, got her breakfast, and sat with her the whole time to make her feel loved. Thank you, Blaklee."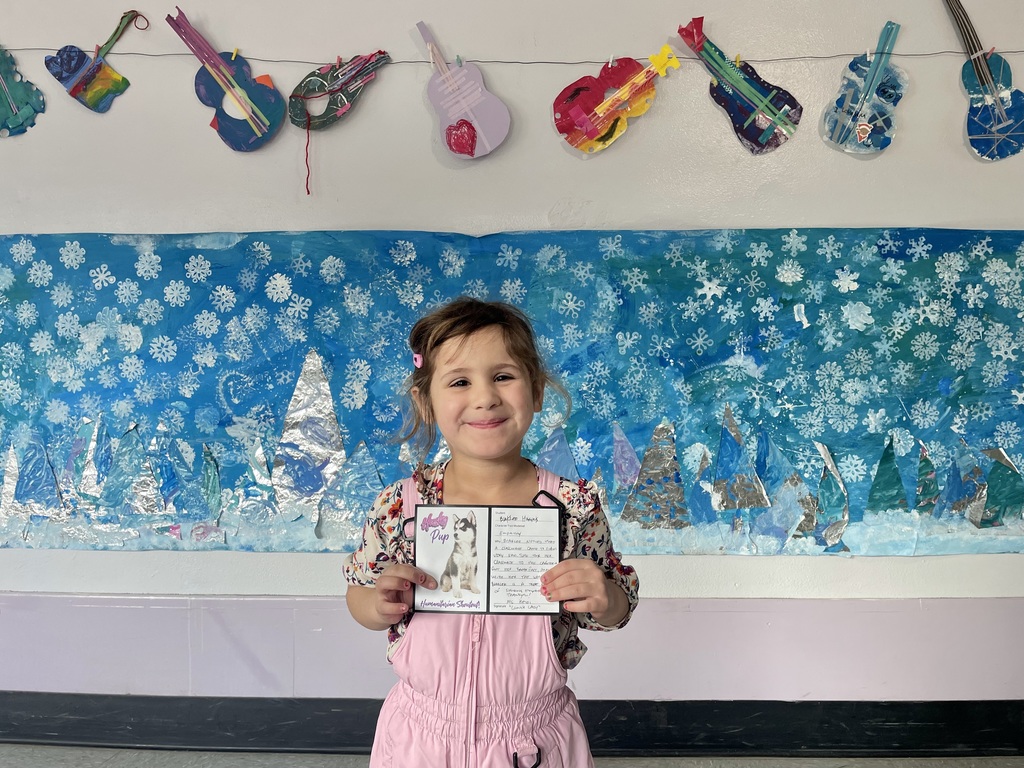 To start the week of February 13th, we have a Husky Pup Humanitarian to announce! Brody was recognized by his teacher, Mrs. Stein, for showing Good Citizenship. Mrs. Stein states "Brody consistently jumps in to help others everyday with all kinds of tasks, big and small. He is always a kind and steady presence in our class. Thank you Brody".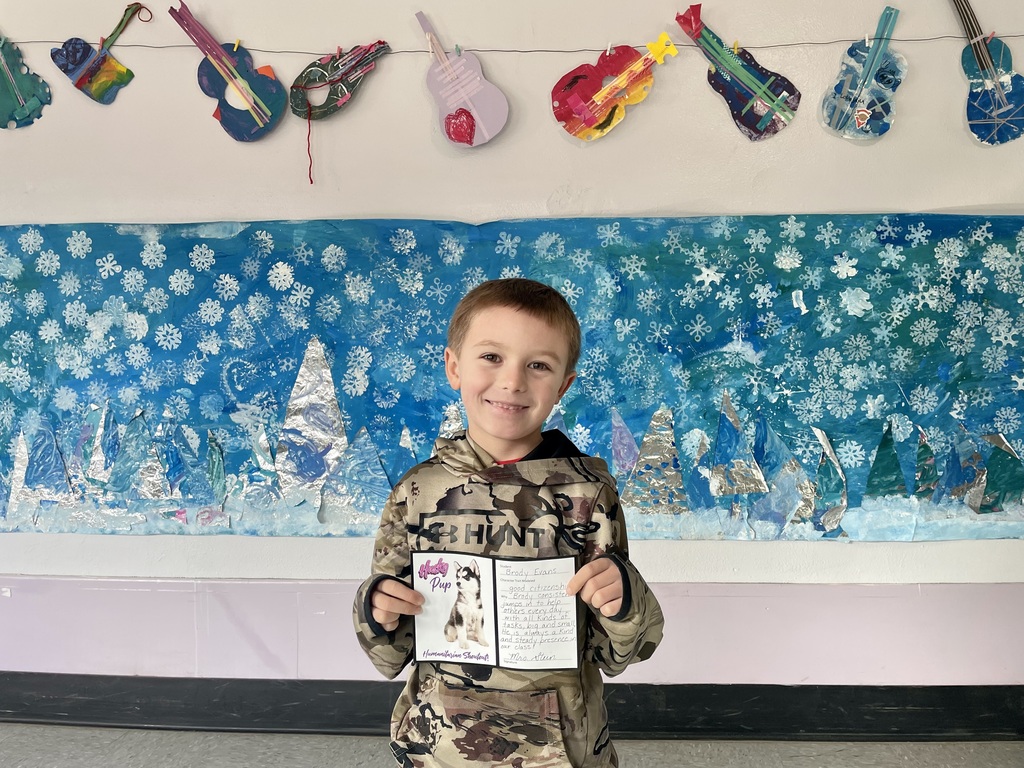 Starting our Tuesday with a Husky Pup Humanitarian! Jayson was recognized by Mrs. Chagas for showing Kindness. "I brought my son to school a couple of weeks ago for a surprise celebration the High School put together for my mom. Jayson went above, beyond, and out of his way to make sure my son had a great day and a friend. I'm so grateful for your kind and loving heart! You made mine, and my 4-year-old son's day. Thank you, Jayson!"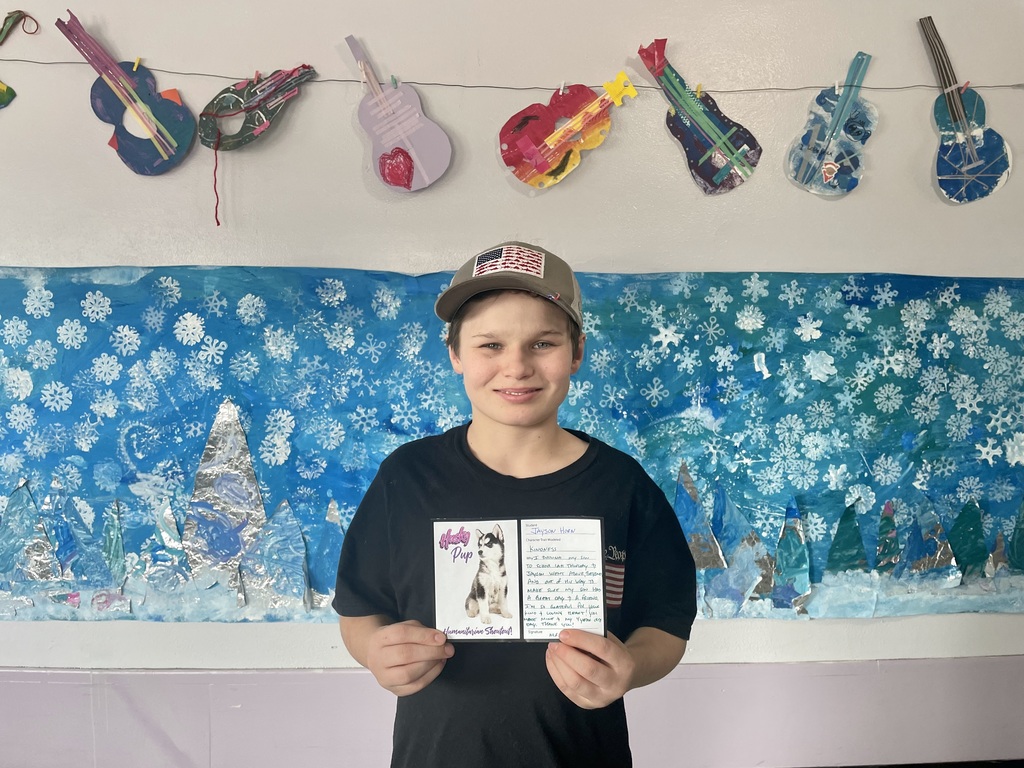 Squeezing in another Husky Pup Humanitarian before the day ends! Brock was recognized by his teacher, Ms. Bingaman, for showing Compassion. Ms. Bingaman states "during inside recess, one of Brock's classmates became upset and he was the 1st one by her side. He comforted her until the problem was solved and she felt better. Thank you, Brock!".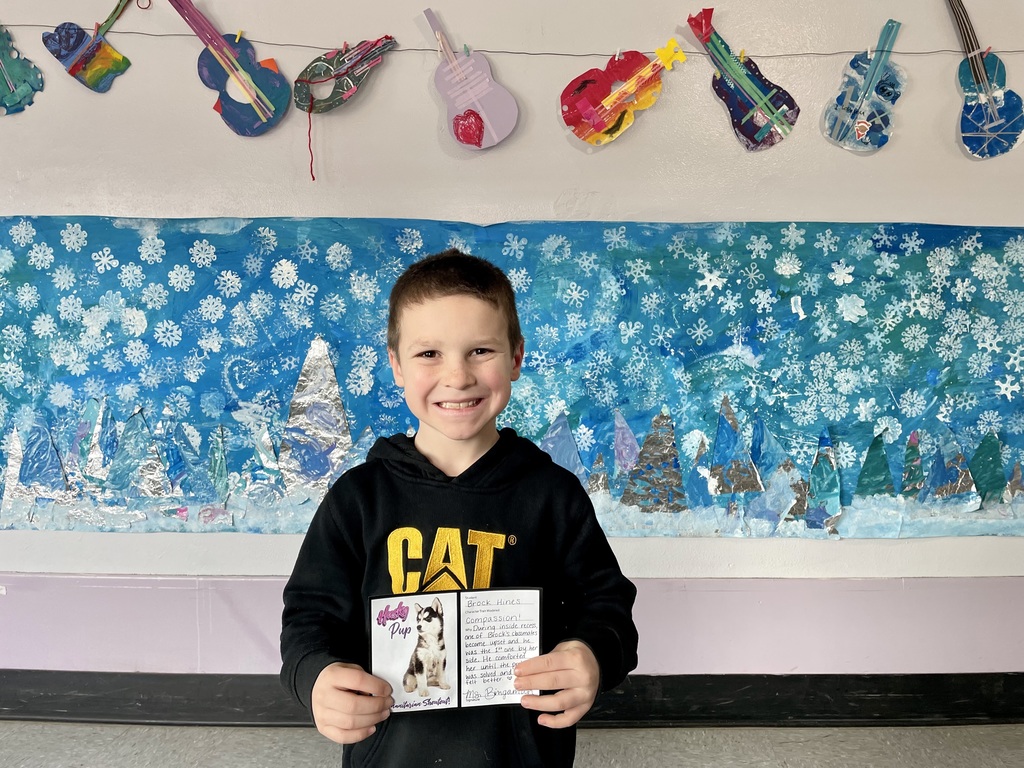 Let's hear it for our February 6th Husky Pup Humanitarian! Avery was recognized by her teacher, Mrs. Stratton, and Mrs. Chagas, for showing Selflessness. Mrs. Stratton & Mrs. Chagas state "At the start of the lesson Avery noticed that her classmate wanted to sit by the teacher; without hesitation, Avery stood up and moved to the back to allow her classmate the spot she was hoping for. Avery always leads by kindness! Thank you, Avery!"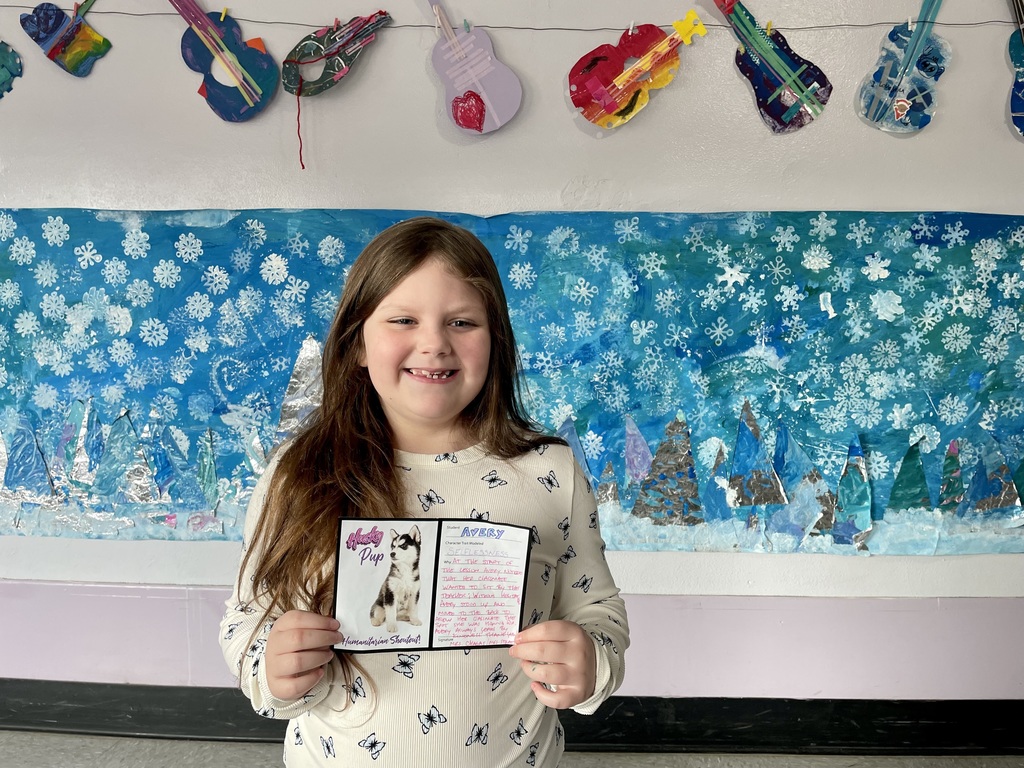 How about a Husky Pup Humanitarian to brighten up the middle of your week! "Haley was recognized by her teacher, Mrs. Bennett, for showing responsibility. Mrs. Bennett states "During Library we did a craft that created a bit of a mess. While everyone else was lining up- Haley continued to clean up until her group's table was clean. Thank you Haley!"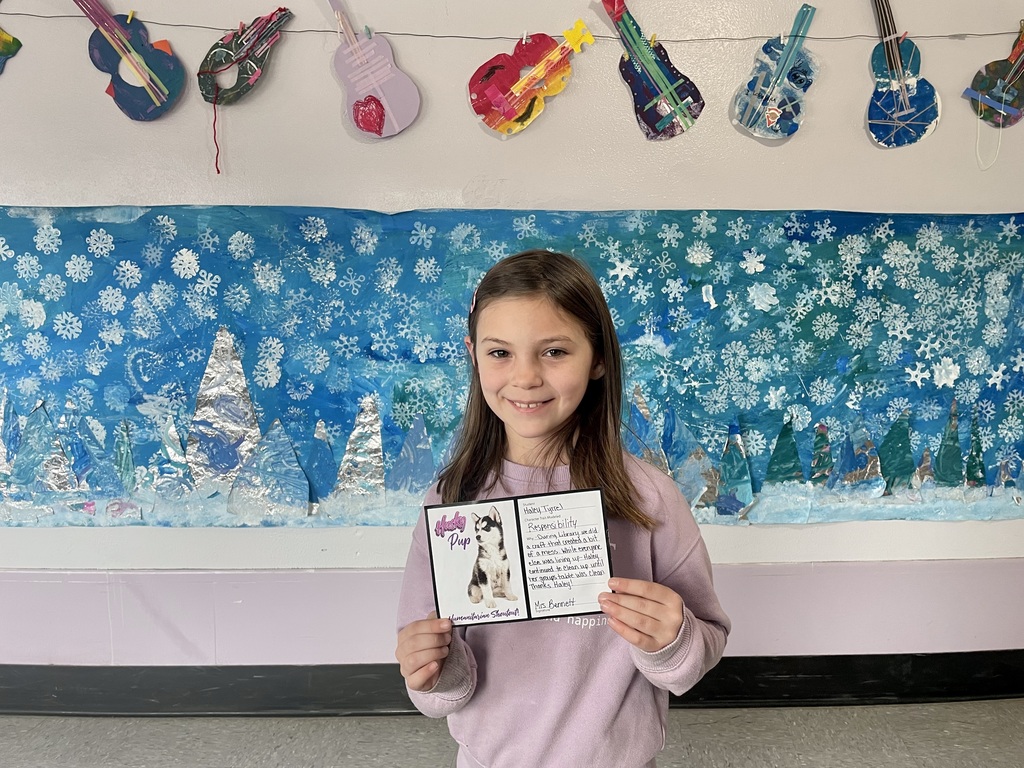 Tristan's teacher, Mrs. Lathrop, recognizes Tristan for showing Kindness and Friendship. Mrs. Lathrop says, " Tristan, out of the kindness of his heart, took time to help a friend/classmate with long-division. This helped his fellow peer understand the concept even better- it was with it to see the smile on both kids faces!" Way to go Tristan, thank you for your kindness and friendship!