Good afternoon Stella Mayfield families. As with the positive Covid case in the primary grades, we have been notified of an additional positive case within our school in the upper elementary. Due to the complexity of the situation, we have been advised by health care professionals to invoke a pause to school and all after school activities on Monday, January 31st at Stella Mayfield. We know this may present difficulties to your schedule, but please understand this is for the health and safety of all students and staff at the grade school. Also, if your child was in attendance for fourth and fifth grade boys basketball practice on Thursday January 27th, an additional day out from school on Tuesday is required. Thank you for your patience as we continue to fight through what is out of our control.

Good evening Stella Mayfield families... This week, please be sure to check your student's backpack for their second quarter report card as they will be given to your child by their teacher and on to you. If, by chance you do not receive their report card, please notify our office so we can make arrangements on how to get your child's grades to you. You are always welcome to additional copies as well, just let us know. Thank you and have a great rest of your evening.

Good afternoon 5th and 6th grade families. Our apologies for the late notice, if you have a child participating in wrestling, their practice has been cancelled for the evening. Thank you and sorry for any inconveniences.

Good afternoon sixth grade parents. If you pick your child up from school, please note that today, all sixth graders will be released from Stella Mayfield instead of the high school. Thank you!

Good evening. This message is a reminder to all families with students attending Stella Mayfield in grades Kindergarten through Fifth grade. Our Winter Concert set to begin at 6:00 Tuesday December 14th. Please have your student to their classroom as soon as the doors open at 5:30. Following your student's class performance, students will go back into the classroom then return to the auditorium for one last song with the whole group. Students will then be escorted back to the classroom for you to pick up. Please do not arrive prior to 5:30 as the doors will remain closed until that time. Thank you and have a great evening.

Good evening Elgin School District families! Please remember tomorrow, Wednesday November 24th, all students will be released from school at 1:00. Students will begin exiting Stella Mayfield at 12:45 to ensure a safe and efficient release in time for the busses to head to the high school by 1:00. If your child does not ride the bus, please make sure to have their transportation from school in place prior to our early release. Have a great evening and a Happy Thanksgiving from the Elgin School District!

Good evening Stella Mayfield families! This is just a simple reminder of the fourth grade field trip for tomorrow to the cultural center in Pendleton. Please be aware that all fourth graders will be leaving the school on the bus at 8:30 and returning between 2:30 and 3:00. Students will need to bring a sack lunch and three to five dollars for items from the gift shop or ice cream. Thank you and have a great evening.

Hello families, Fourth, Fifth, and sixth grade students and teachers will be visiting the Art Center East in La Grande on Wednesday November 10th to see their work on display. They will also get to see other students work, gallery work, and get a tour of the art and pottery studios. The busses will depart from Stella Mayfield at 8:30am and return about 10:30am. Students will return in time to have lunch at school. This field trip will require students and faculty to wear a mask upon entry to the exhibit. If you object to your child wearing a mask inside the facility, please understand there will be an alternate activity provided for those students who remain at school. If you have any questions or concerns, please contact Mrs. Welch (Art Teacher) or the front office at 541-437-2321 Thank you, we are excited to share this opportunity with our students! Have a great evening!

Congratulations to our Stella Mayfield Students of the Month! Bottom Row: Alexis Goodwin, Brynn Thompson, Hayden Hunt, Abigail Kennedy-Phillips, Layla Deiter Top Row: Darren Rodgers, Bryce Johnson, Kenneth Johnson, Payton Evans, Savanah Mezo Not Pictured: Colton Breeding-Hendricks, Moon Lily Campbell, Mila Skalozub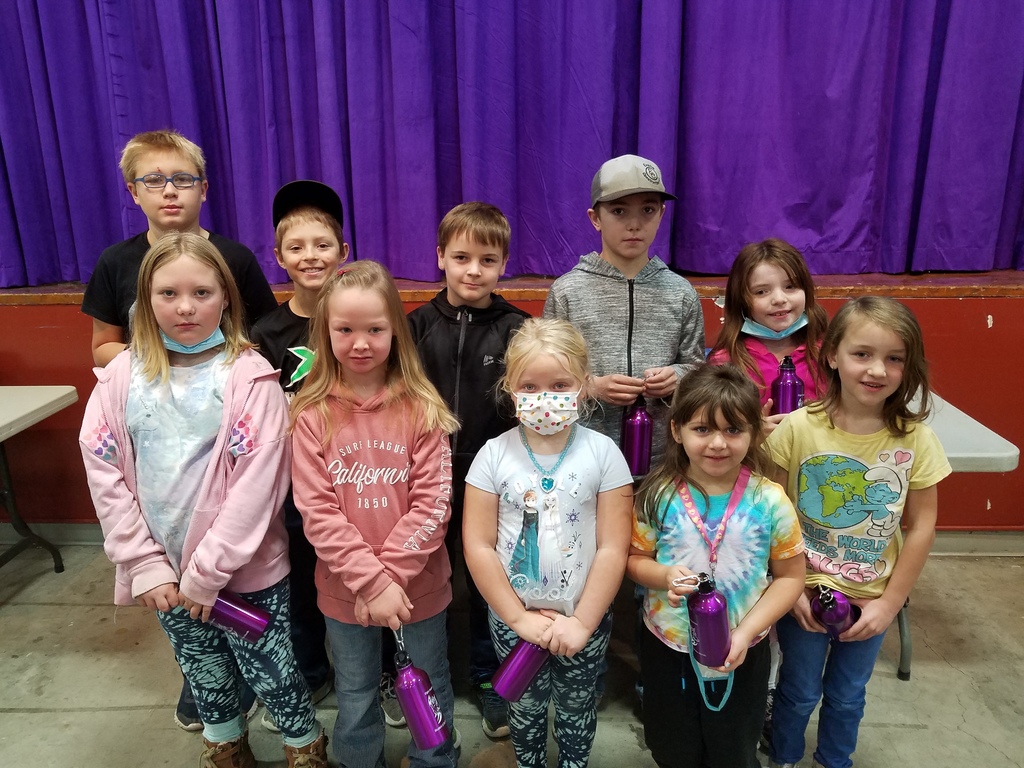 Leaf Raking Fundraiser Who: Stella Mayfield Student Council When: October 28th: 3:30-5:30pm November 4th: 12:30-5:00pm Contact: Kelly by email at
kelly.mclaughlin@elginsd.org
or call Stella Mayfield @ (541)437-2321 Stella Mayfield Student Council is excited to help the community members clean up their yards and will come rake and bag leaves for you!! Donations Accepted!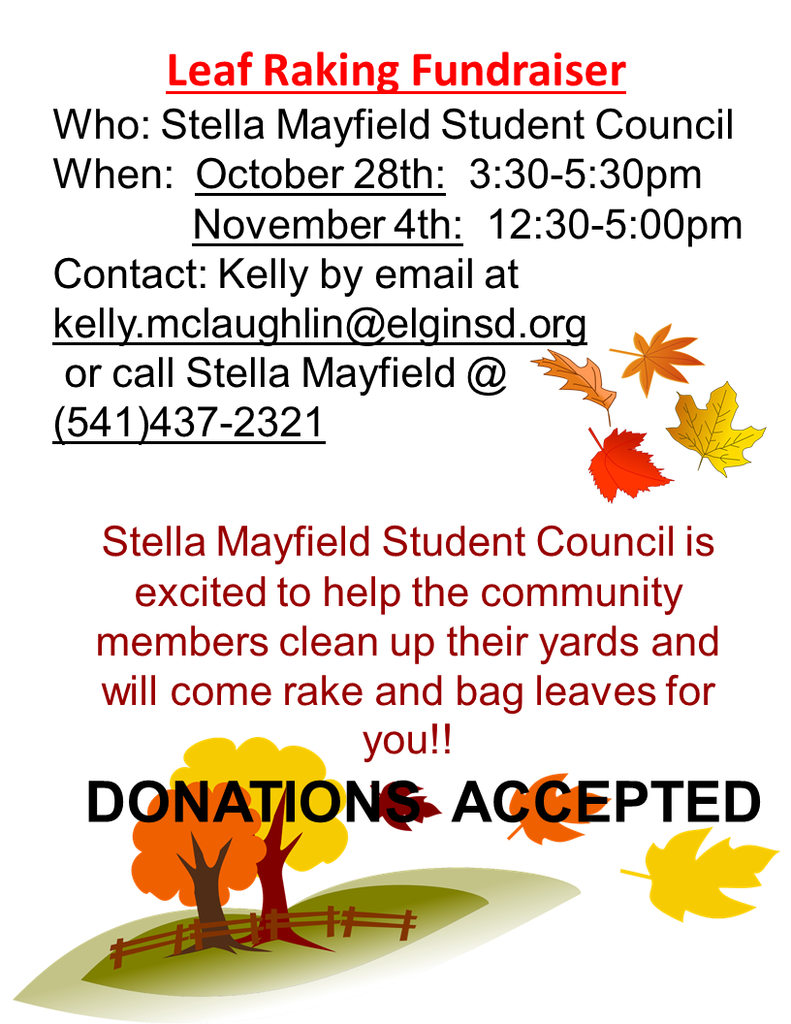 Congratulations to our Stella Mayfield Students of the Month! First row: Eizley Murry, Reece Hansen, Brody Evans, Jaylyn Waters Second row: Roston Evans, Sofia Collins, Lena Nilson Third row: Calli Duke, Gracelynn Hoffman, Trevor Ewing, Calla Hagedorn, Austin Johnson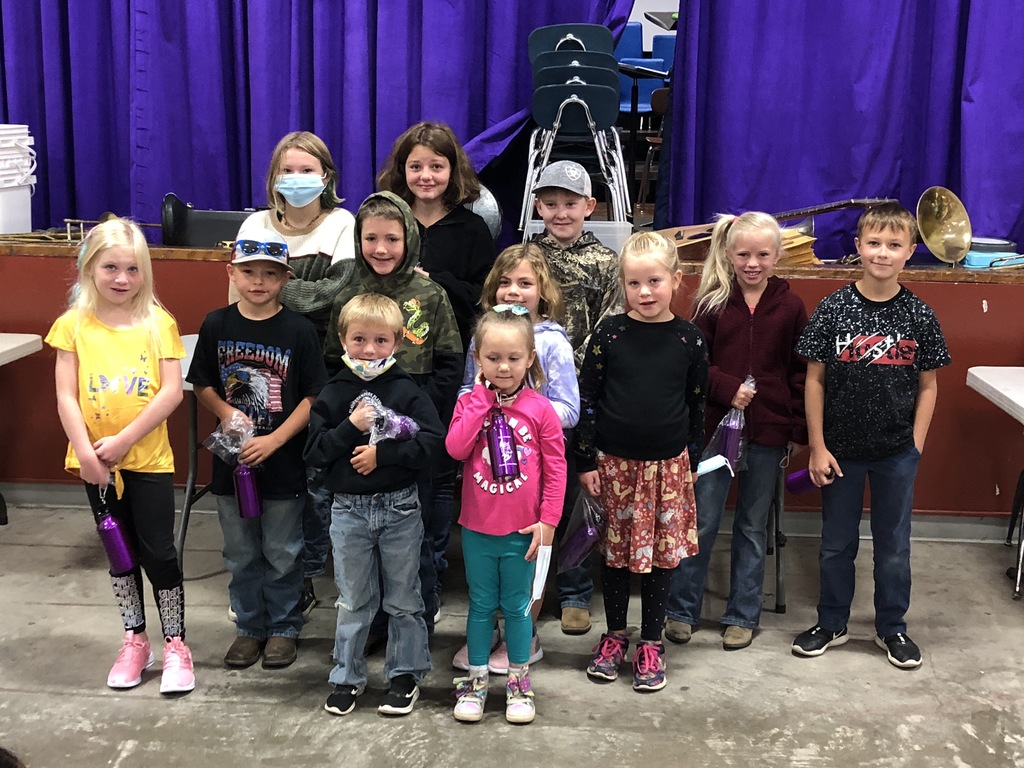 It's that time of year again. It's our annual walk-a-thon fundraising event. On May 19th and 20th, during your child's PE time, students will walk or run as many laps as they can around an 1/8 of a mile track. Prior to holding this event we are having students ask community members to pledge money for each lap they complete, or just a flat rate of any amount. The money will then need to be collected and returned to the school by May 27th. The proceeds will go toward upgrades and improvements to our elementary playground area. Also, the students who are the highest money earners will win a brand new bike. Thank you for helping support our Elgin Husky Elementary School. If you have any questions, feel free to call the elementary school at (541) 437-2321. Thank you and have a great evening.

Good evening Stella Mayfield families! Tomorrow, May 13th, all students third grade through sixth grade will be attending Cove Play Day! Students will leave on the bus from Stella Mayfield no later than 8:15 and return at around 3:15. Please be sure to have your child pack a water bottle and a sack lunch for this historic event. Thank you and have a great evening!

Good evening Stella Mayfield families... This week, your child will be bringing home their report card for the second quarter grading period. Please be checking their backpack after school to make sure you have received a copy. If you do not receive their report card within the week, please give our office a call or drop in so we can print a duplicate. Thank you and have a great evening.

Cooler weather is just around the corner. Please make sure your student is coming prepared to be outside in this cooler weather.