It is such a pleasure to share a Husky Pup recognition at the beginning of the week! Elaina was recognized by Mrs. Stein for showing Generosity. Mrs. Stein states "when a students' iPad wasn't working, Elaina offered hers for them to use instead- without anyone asking her to do so." Way to go Elaina!!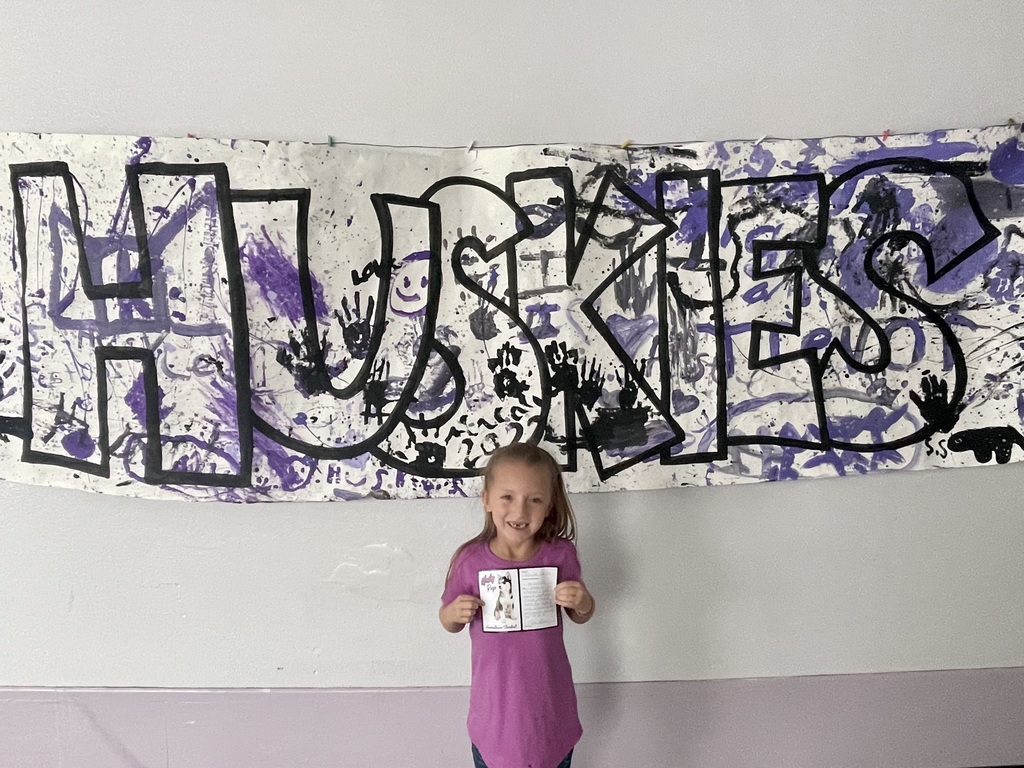 Mrs. Welch's 1st grade Art classes really understood the assignment and brought to life the Monarch butterfly. Mrs. Welch has the ability to pull out the creativeness in everyone and her students art, always shines.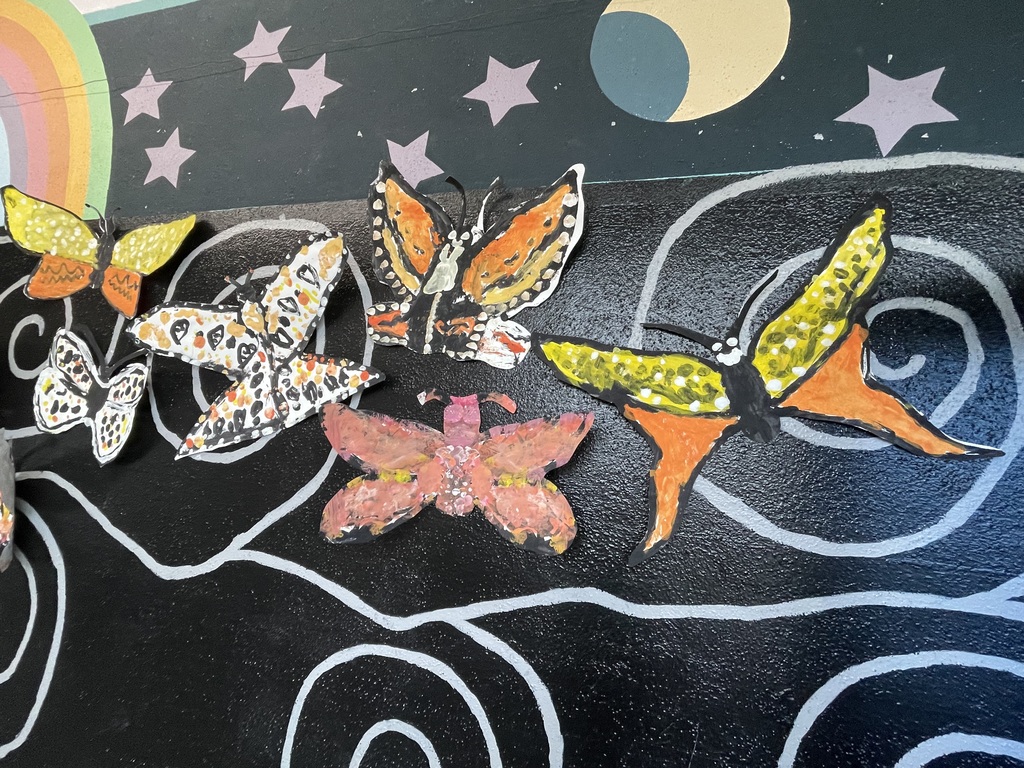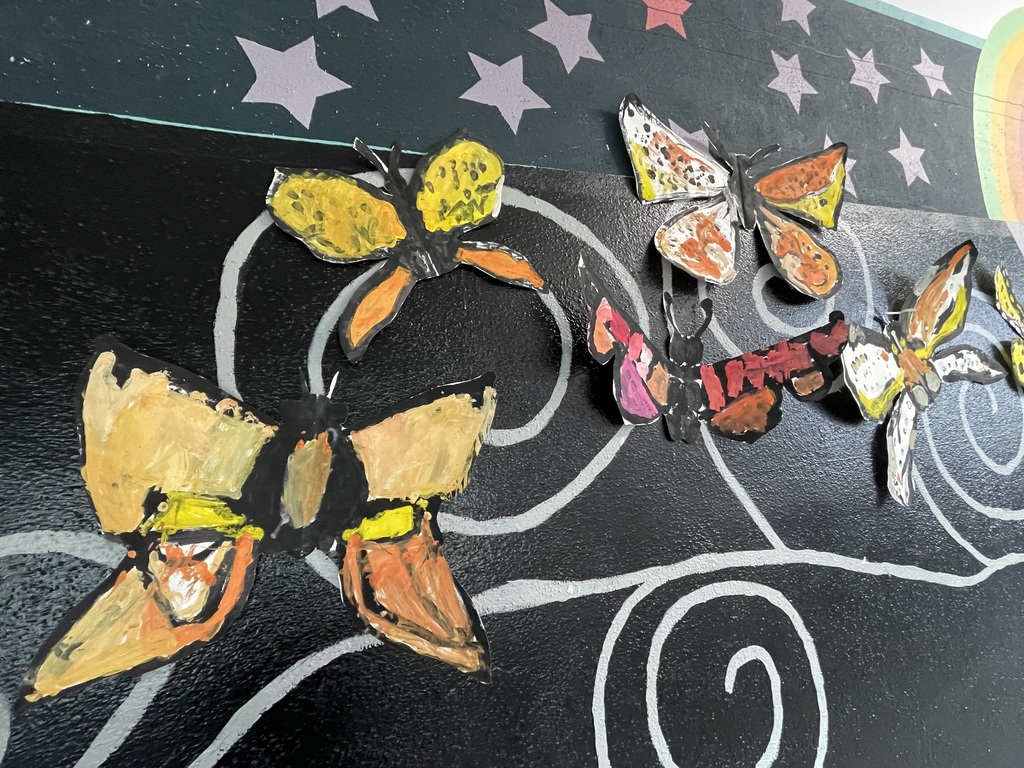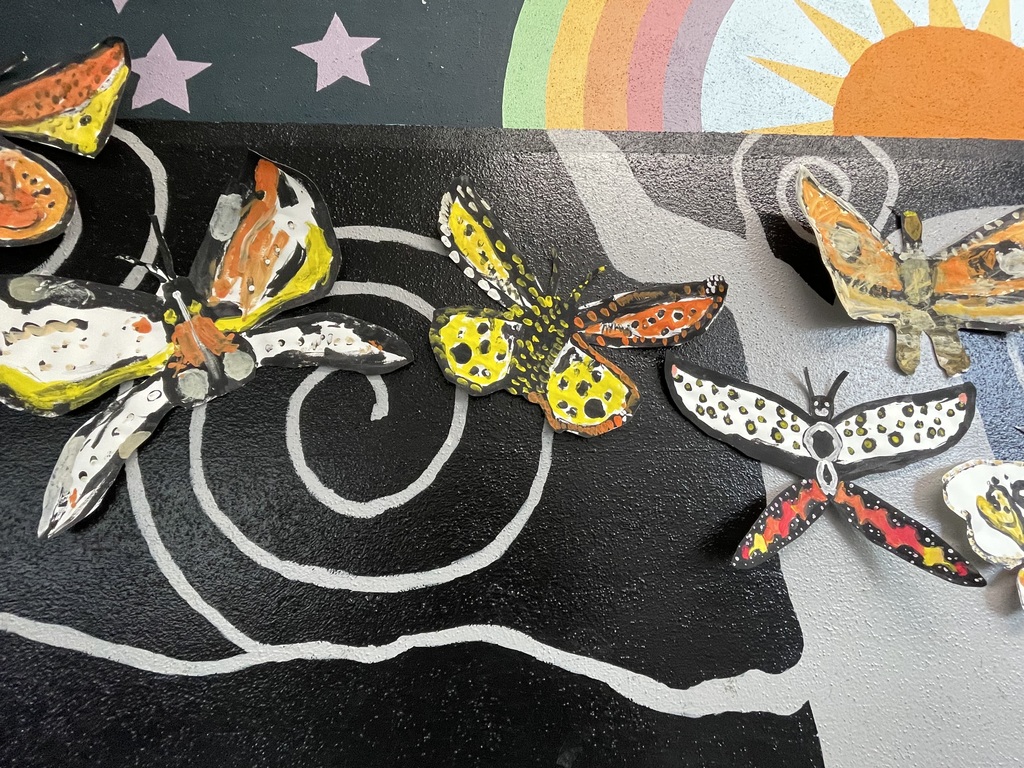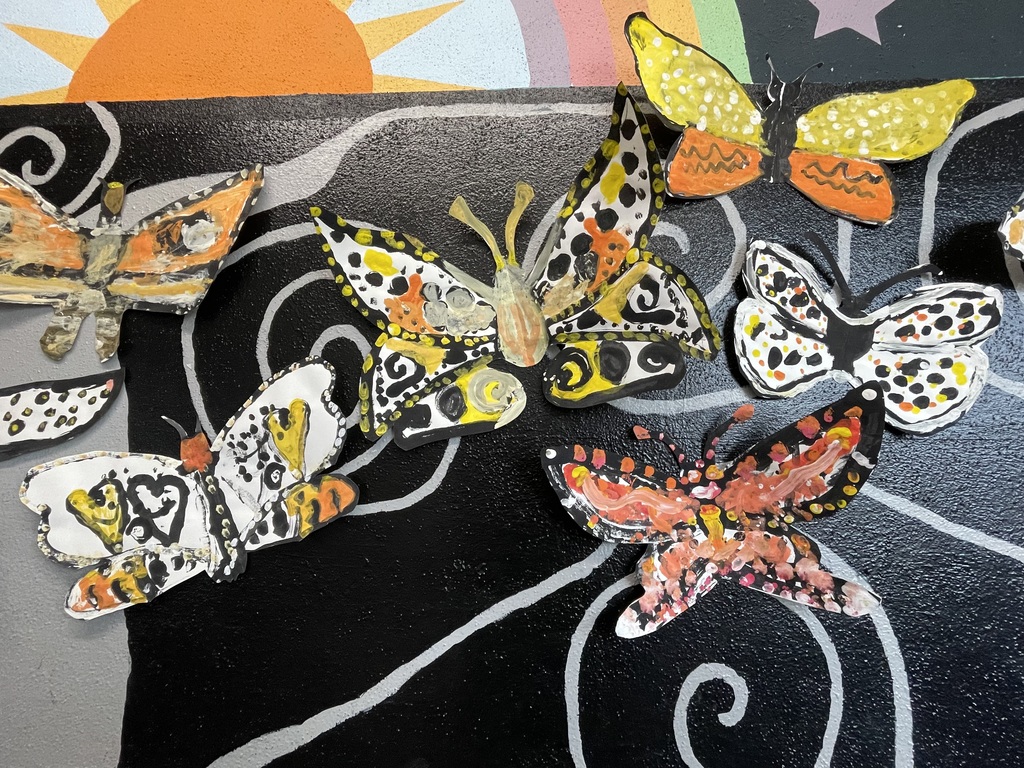 A great start to the week with another Husky Pup Humanitarian shout out! Harmony was recognized by Mrs. Stein for showing Kindness and being Helpful: Mrs. Stein states "Harmony jumped right in to help another student complete a project they were struggling to finish on time and did so, kindly"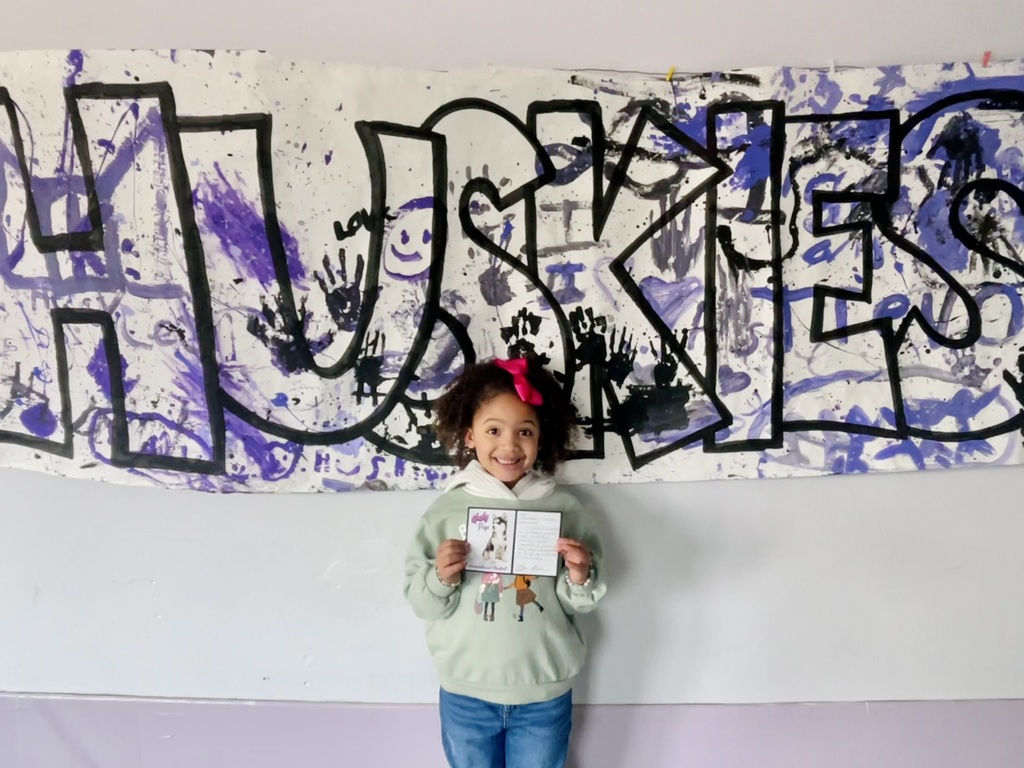 Good evening Stella Mayfield families! This is a reminder all students Kindergarten through third grade have been invited to attend the Beauty and the Beast performance at the Elgin Opera House tomorrow, November 17th at 9:00. Students will be walking to the Opera House from the grade school just prior to the start of the performance then return to the grade school around 11:00. Students in grades Kindergarten through second grade will enjoy school lunch in their classrooms following the play with third grade headed to the cafeteria. Thank you and have a great evening!

Right on the heels of our first Husky Pup Humanitarian we have our next student, Brody- Recognized by Mrs. Chagas for Kindness! "Brody noticed that a student was trying to get inside while his class was rushing outside. Brody recognized the student stuck in the chaos and took it upon himself to stop the rest of the class, hold the door open for her, and allow her to come inside safely. Brody always shows kindness and consideration towards others, and I am grateful for his joyful heart."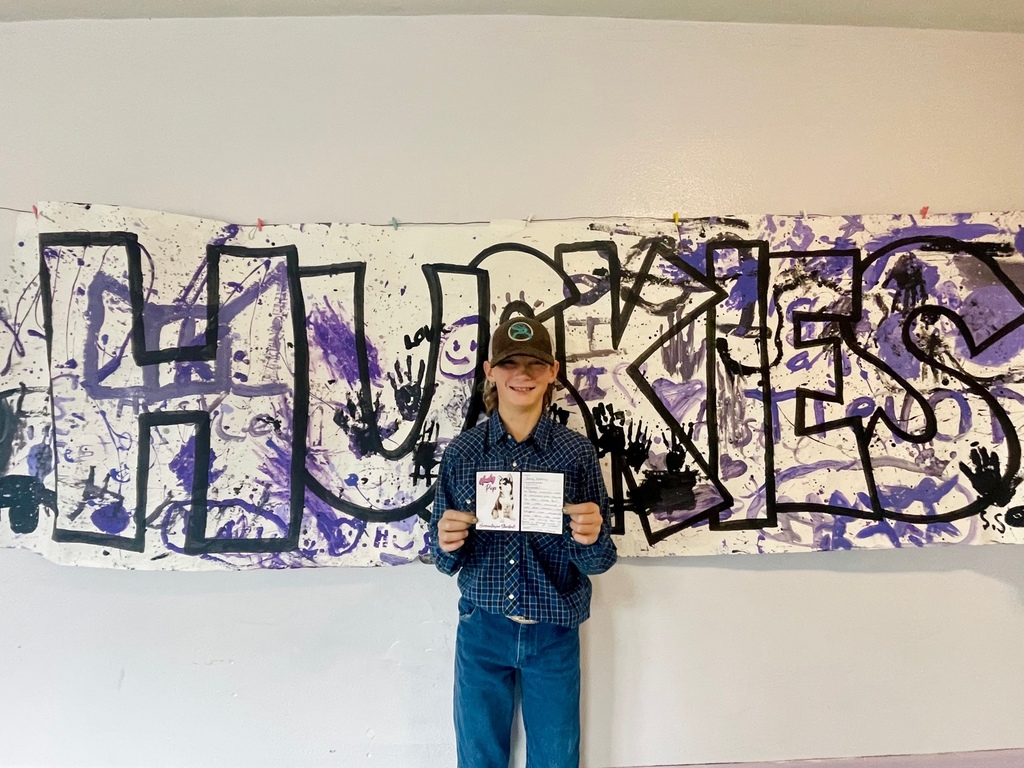 We are proud to announce our very first Husky Pup Humanitarian shout out to Eoinn- Was recognized by Mrs. Stein for Compassion! "Eoinn took a hurt friend up to the office and stayed with him to help him feel better. Awesome way to show compassion!!"

Good evening fourth grade families! This message serves as a reminder of our field trip tomorrow to Tamastslikt Cultural Center in Pendleton; Students should have returned the signed permission slip or note, pack a cold lunch, and bring money for ice cream and / or the gift shop. Ice cream is $2.75 for one scoop. We will depart from the grade school on the bus at 9:30 and are set to return at 3:00. Thank you and have a great evening!

Good afternoon Stella Mayfield families. School pictures will take place this week on Wednesday and Thursday, October 26th and 27th. If your child is enrolled in the grade levels Preschool through second grade, their picture day is on Wednesday, and if your child is enrolled in grades three through six, their picture day will take place on Thursday. Picture orders will be available for purchase online at elginschooldistrict.shootproof.com following the day your child has their picture taken. Thank you and have a great evening!

Husky sports fans! Tonight, we have 3rd-5th Grade Volleyball @ Union at 6:00pm! Go huskies!

Good afternoon! This message goes out to all 6th through 8th grade boy's families that Jr.High Boys Basketball season will begin on Monday October 24th. The first practice and will take place at the High School from 4:30pm - 6pm. Thank you and have a great evening!

Husky families! This months character trait is "Responsibility" for Stella Mayfield Elementary! "Taking responsibility is a commitment to own your life, to self-leadership, growth, and freedom." -- Christopher Avery

Good evening Stella Mayfield families! In preparation for Homecoming Week in the Elgin School District, students at Stella Mayfield are invited to show their spirit during this exciting week, October 3rd through 6th. On Monday, students are encouraged to wear camo, Tuesday will be red and or white, Wednesday is beach themed outfits, and Thursday Kindergarten through Second grade will wear purple and Third grade through sixth grade will wear black. This is just something fun for us to do this week and not at all a requirement so please do not feel as though you need to rush to the store in order to participate. Thank you all and have a great evening.

Good evening Stella Mayfield families. This message serves as a notice that all fourth, fifth, and sixth grade students have been invited to attend the "School of Rock" performance at the Elgin Opera House on Thursday, September 22nd at 9:00 in the morning. If you do not want your child in attendance for the performance please give our office a call so we can make sure to have an alternative assignment during that time. Teachers and support staff will be escorting students from our building to the Opera House for this special event. Thank you and have a great evening.

Good evening from Stella Mayfield school. This message serves as a reminder that all 3-6th grade students will begin swimming lessons as part of their PE curriculum this week and need to have turned in a permission slip prior to going. Mrs. Bennett's, Mrs Murphey's and All sixth grade students start tomorrow (August 30th) and need to bring a swimsuit and towel to school, while Mr Sofe, Ms. Lathrop's and all 5th graders begin Wednesday August 31st. If you have any questions please feel free to call the school at 541-437-2321. Thank you

Good afternoon Stella Mayfield families. As with the positive Covid case in the primary grades, we have been notified of an additional positive case within our school in the upper elementary. Due to the complexity of the situation, we have been advised by health care professionals to invoke a pause to school and all after school activities on Monday, January 31st at Stella Mayfield. We know this may present difficulties to your schedule, but please understand this is for the health and safety of all students and staff at the grade school. Also, if your child was in attendance for fourth and fifth grade boys basketball practice on Thursday January 27th, an additional day out from school on Tuesday is required. Thank you for your patience as we continue to fight through what is out of our control.

Good evening Stella Mayfield families... This week, please be sure to check your student's backpack for their second quarter report card as they will be given to your child by their teacher and on to you. If, by chance you do not receive their report card, please notify our office so we can make arrangements on how to get your child's grades to you. You are always welcome to additional copies as well, just let us know. Thank you and have a great rest of your evening.

Good afternoon 5th and 6th grade families. Our apologies for the late notice, if you have a child participating in wrestling, their practice has been cancelled for the evening. Thank you and sorry for any inconveniences.

Good afternoon sixth grade parents. If you pick your child up from school, please note that today, all sixth graders will be released from Stella Mayfield instead of the high school. Thank you!

Good evening. This message is a reminder to all families with students attending Stella Mayfield in grades Kindergarten through Fifth grade. Our Winter Concert set to begin at 6:00 Tuesday December 14th. Please have your student to their classroom as soon as the doors open at 5:30. Following your student's class performance, students will go back into the classroom then return to the auditorium for one last song with the whole group. Students will then be escorted back to the classroom for you to pick up. Please do not arrive prior to 5:30 as the doors will remain closed until that time. Thank you and have a great evening.

Good evening Elgin School District families! Please remember tomorrow, Wednesday November 24th, all students will be released from school at 1:00. Students will begin exiting Stella Mayfield at 12:45 to ensure a safe and efficient release in time for the busses to head to the high school by 1:00. If your child does not ride the bus, please make sure to have their transportation from school in place prior to our early release. Have a great evening and a Happy Thanksgiving from the Elgin School District!